There are two basic ways to get the output in PHP: echo and print , both are used to display the output on screen.
Difference between echo and print
echo has no return value while print has a return an integer value, which is 1
echo can take multiple parameters separated by comma (,) while print can take one argument.
echo is faster than print.
PHP echo Statements
echo can be used with or without parentheses: echo or echo(). some examples of echo

//echo with html text data
echo "<h1>PHP is scripting language </h1>";

//echo without parentheses
echo "Hello World!";

//echo with parentheses
echo ("Hello World!");

//echo with multiple parameters
echo "PHP ", "is a ", "server-side ","scripting language";

$string1=" Coding";
$string2=" at Qoify.com";
echo "Learn ".$string1.$string2;

$a=5;
$b=7;
echo $a+$b;


Output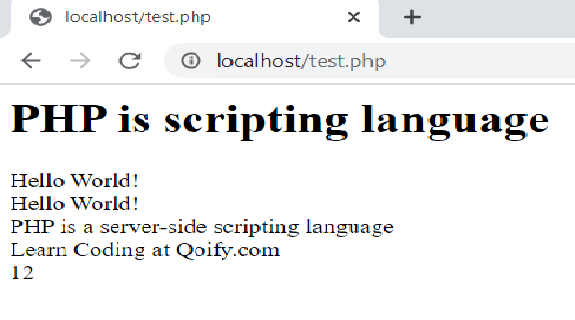 PHP print Statements
Print can be used with or without parentheses: print or print(). some examples of print

//print with html text data
print "<h1>PHP is scripting language </h1>";

//print without parentheses
print "Hello World!";

//print with parentheses
print ("Hello World!");

$string1=" Coding";
$string2=" at Qoify.com";
print "Learn ".$string1.$string2;

$a=5;
$b=7;
$retun = print $a+$b;

// print return type check
print "Return type:".$retun;

Output